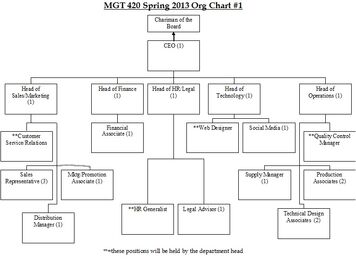 This is our first take at an organizational structure.  I drafted this up for three reasons: (1) In a company with less than 20 employees For decision making purposes and delegation of tasks, a simpler structure will gear the company towards efficiency and will make the decision process easier.  (2) This structure gives every employee in the organization responsibility over a key function of the company.  This ensures everyone is involved and an active participant in the copmany.  (3) Retaining as flat a structure as possible and organizing people into department teams this can allow for organic growth and operation to be as adaptive, responsive, and innovative as possible.
Ad blocker interference detected!
Wikia is a free-to-use site that makes money from advertising. We have a modified experience for viewers using ad blockers

Wikia is not accessible if you've made further modifications. Remove the custom ad blocker rule(s) and the page will load as expected.